Published in Dawn's Prism on January 22 2020
As our train proceeded from Fez to Marrakech, the pink city, I wondered what Jama al-Fina, the square in Marrakech's old medina, would be like. Just before our journey, I had discovered a novel by a Moroccan writer Youssef Fadel, A beautiful white cat walks with me — a compelling, eerie and grim story of Sanawat-ar-Rusas (the years of lead), the reign of King Hasan II (1960s to 1980s) marked by political repression and violence. A masterpiece, this novel is a story of those years told by a father-and-son duo. A king's private jester at the royal court, the father had begun his career as a story-teller at Jama al-Fina.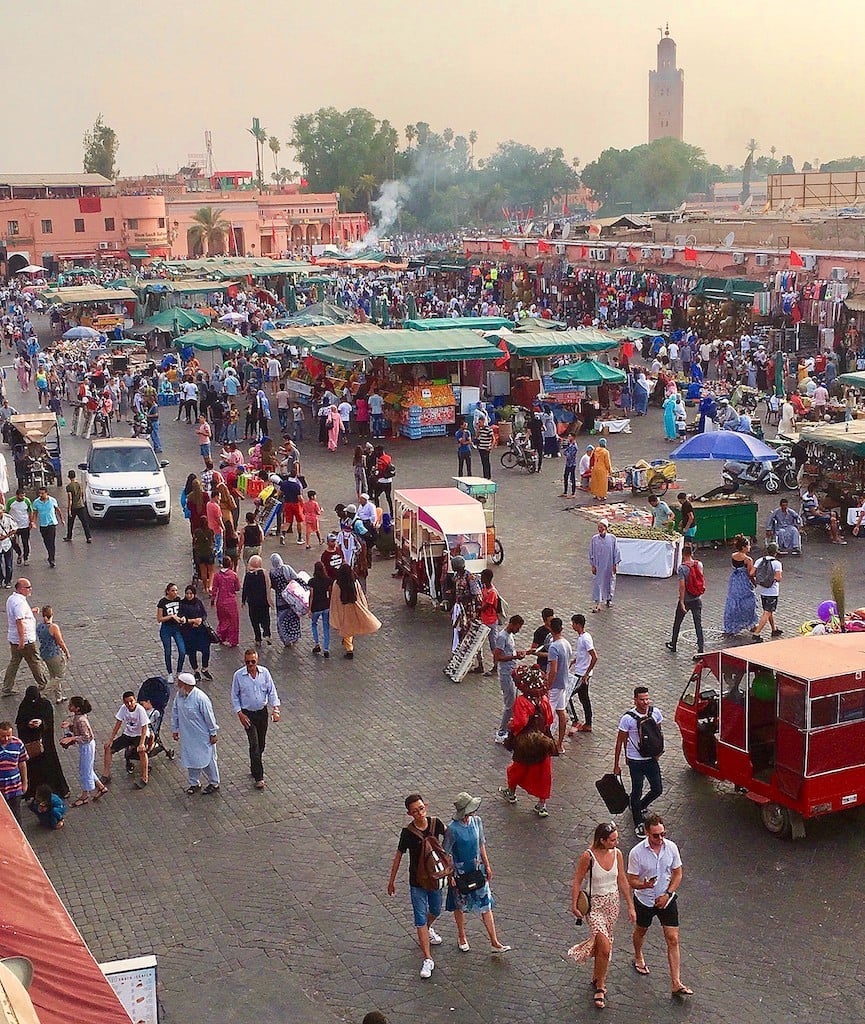 The taxi driver dropped us at Derb Asra entrance of Jama al-Fina in Kennaria, a neighbourhood adjacent to Jama al-Fina, and helped us get a man with a hand-cart to carry our bags to Riad Malida inside the medina. The wide street closes to traffic in the afternoon, we were told.
Listed by Unesco as one of the 'Masterpieces of the Oral and Intangible Heritage of Humanity', Jama al-Fina, provides a unique cultural space to citizens to engage in diverse activities and spectacles in addition to trading through weekly and daily markets. We had arrived in the evening. Jama al-Fina is a place to wander and explore with eyes wide open: there are so many sights and sounds and smells to take in. Tired after an eight-hour journey, we headed straight towards Café de France where the person from the riad said they would wait for us to guide the way. The place jostled with people. Dazed with fatigue, it was impossible for us to identify the man in the crowd so we got on Google Maps, entered one of the alleyways, and breathed a sigh of relief when we spotted the Riad Malida where we had booked a room.
The enormous brick-laid square, Jama al-Fina is lined on one side with hotels and café terraces. In between, narrow streets lead to the maze of Marrakech historic medina founded in 1070 by Abu Bakr ibn-e-Umar. On the far end, just opposite the souks, stands Jama al-Kutubiah. Horse-drawn carriages are lined on one side of the square opposite several public buildings adorned with red flags. All structures are hues of pink, peach and red. The pigment comes from local clay found in the surrounding areas and the uniformity is attained through a building regulation. As the square comes fully alive only in the evenings, after breakfast we decided to first explore the city outside the medina.
At 11 a.m., the square appeared empty, with only the fruit-juice sellers and dry fruit canopied stalls opening up. A few vendors were settling down with their wares.
We headed towards Avenue Yacoub el-Mansour to visit Marjorelle Garden located nearby. Conceived as a 'botanical laboratory', a garden and a villa, the place was designed and created by the French painter Jacques Marjorelle over forty years beginning from 1922. When he left Morocco in late 1950s, it fell to ruin. Later, French designer Yves Saint-Laurent purchased the property, restored it and sought the assistance of Abderrazzak Benchaabane, the famous Marrakech ethnobotanist and garden designer, to extend and enrich the site.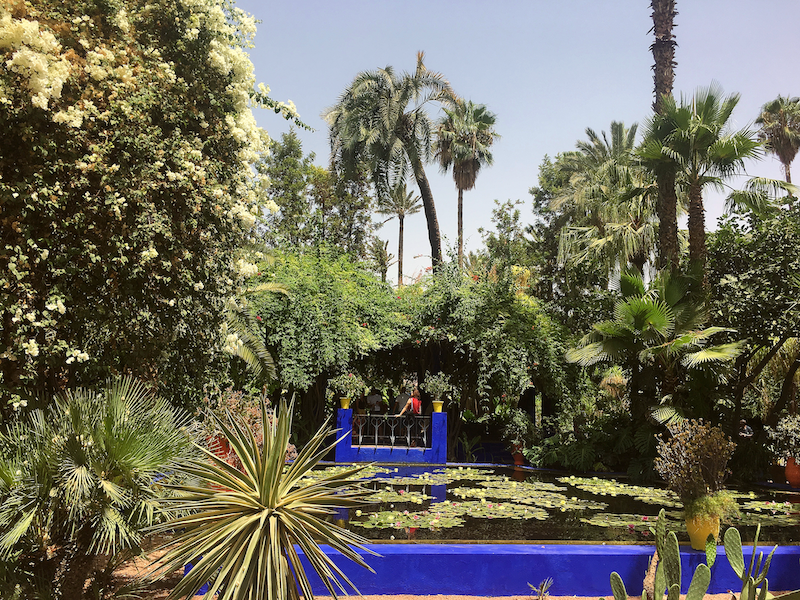 We strolled the many tiled walkways, admiring the several small gardens full of bamboo, cacti, palms, jasmine, bougainvillea, coconut and banana trees, and the foliage growing underneath. There were benches to sit, to rest and admire the plants. The pond in front of the blue villa, full of blooming white water lilies canopied by trees sparkled with flecks of light. The Marjorelle Garden has 300 species of exotic plants collected from five continents. It also houses a small Islamic Art Museum, a Berber Museum and the Yves Saint-Laurent Museum and a shop. Because of its French origin and its association with a famous fashion designer, the Garden looked too small for such an influx of tourists. We would have preferred a less populated garden.
Menara Gardens, in comparison to Marjorelle Garden and much to our relief, was totally bereft of tourists. Located three kilometres southwest of the medina, in the backdrop of the Atlas Mountains, Menara Gardens were built in 1130 by Abd al Mu'min. The Gardens, spread over a very large area, comprises fruit orchards, olive groves and cypress trees planted around a grand pavilion, a big rectangular artificial lake, and a small, green-tiled, pyramidal-roofed menara.
We traversed the vast promenade in the sizzling heat and headed towards the menara. After a little rest under the shade of a food stall, we bought the tickets and went inside. A cool chamber with beautiful windows and arched doors opening to the lake welcomed us. Inside, it was empty and we sat on the window sill for some time. Upstairs was a terrace and from here you could have a panoramic view of the surroundings which was not lush green. Trees were sparse. We came out of the menara and strolled down the promenade. On the right were shady olive groves that appeared to stretch beyond. Several Moroccan families were having a picnic, children playing hide and seek among the trees and elders relaxing on mats and enjoying home-cooked food. We spotted a couple of students bent over books studying in the nooks.
Outside the medina, we visited a historical gem located at Rue de la Kasbah: the tombs of the Saadian dynasty which ruled Marrakech from 1578 to 1603. The burial ground comprises two mausoleums, courtyards and gardens. When we entered a narrow, pink-hued mud-walled passageway that opened into a courtyard leading to the rooms, I did not expect the burial chambers to be so magnificent. The main room has 12 grand marble columns supporting the arches. Intricately carved cedar wood ceiling, delicate plaster filigree, colourful zellij tile-work, Quranic verses etched in marble, wood and plaster: from floor to ceiling, every nook and corner of the structure indicated incredible skills of master artisans. There are 66 graves inside the mausoleums and more than 100 laid out in the gardens. I learned the tombs were kept hidden, untouched, left to ruin by the later rulers until the site was re-discovered through aerial photography in 1917 and restored.
The Saadian tombs reminded me of the Makli Necropolis in Thatta, which I have visited four or five times. My last winter visit to Makli — one of the largest funerary sites in the world — revealed some restoration work and introduction of a vehicle to carry visitors from one cluster of tombs to another spread over a large area. Makli's tombs, inscribed as a Unesco World Heritage site, dates back to 1335, more than 200 years older than the Saadian Tombs. I wished we would have been able to restore this burial ground to its eminence as a historic site worthy to be preserved, protected, and visited by us as well as those visiting the country.
Another historic site we visited in Marrakech was the Bahia Palace at Rue Riad Zeitoun el-Jadid. Built in the late 19th century, Bahia (brilliance in Arabic) Palace has a number of courtyards, gardens with fountains, salons and outbuildings spread out on five acres. The large rectangular courtyard has arched green-and-golden lattice colonnade on three sides and blue-green geometric-patterned zellij tile floor. I wondered about the thousand human stories that would have unfolded in now-empty rooms, bereft of all objects except beautiful fireplaces, carved ceilings, and stained-glass windows and doors.
Morocco's many cities take pride not just in the historic sites but offer glimpses to new initiatives in the preservation of arts and culture and the contributions of its peoples, both men and women, young and old. One such initiative we came across in Marrakech was the Women's Museum or Musée de la Femme.
Inaugurated in March 2018, the museum serves as an archive and documentation centre and a space where Moroccan women display their creative works. Located at the historic district of Sidi Abdel Aziz in the heart of the medina, the museum was running an exhibition titled The Pioneer Women when we visited it in July.
There were three women whose work and achievements were highlighted in the exhibition. The first was Malika Al-Fassi, a journalist-activist and a politician. Malika was the only female out of 66 signatories to vote for and signed the Manifesto of Independence of Morocco in 1944. The second was Izza Genini, a documentary filmmaker whose works include films featuring indigenous and folkloric music from various regions in Morocco. The third pioneer Rachida Touijri is a self-taught painter and a chemical engineer. Her work is abstract and influenced by Sufism. The exhibitions are complemented by the museum's traditional Moroccan textile collection.
The exhibits are spread over a very well designed three-storey small house-turned-gallery with narrow staircase and a dreamy aura. The museum is a member of the International Association of Women's Museum. At the gift shop, a cloth bag with a Fatima Mernissi's quote read: Dignity is having a dream, a dream that gives you a vision, a world where you have a place, where your participation, as minimal as it is, will change something. I left the museum wishing to have such a museum in Karachi. Perhaps, one day young pioneers of our city would create such a place.
Another amazing place we discovered in the same neighbourhood — located between the Ben Youseff Mosque and the Ben Youseff Madarsa — was Dar Bellarj, a centre of art and culture housed in a traditional riad. Originally a foundouq (a mixture of musafir khana and a stable for animals) used by a man as a sanctuary for injured bellarj(storks), the building is now devoted to the protection and promotion of Moroccan culture by the Dar Bellarj Foundation, a non-profit organisation.
Opened in 1999, the renovated riad has an impressive courtyard with a fountain, surrounded by four large rooms and arched passageways decorated in traditional Moroccan architectural style. When we walked in, all the doors were open and there was no ticket booth. The rooms had wall installations comprising black and white photographs, artistically framed and collaged together reflecting the life as lived on the streets by the Moroccan youth, women and men. We learned that the foundation arranges thematic exhibitions, organises storytelling sessions, folk music concerts, and events related to poetry, song and dance, literature and drama. In the afternoons, it runs workshops on painting, model-making, music, etc., for both adults and children.
Again this fascinating cultural centre made me wonder why we could not save even one old building on Karachi's M A Jinnah Road and turn in to a similar space. I know urban planner and architect Arif Hasan and his team at the Urban Resource Centre strove to rehabilitate an old building near Prince Cinema into an urban resource centre but in vain. The skeleton of the façade stands till today, reminding me, whenever I pass by the busy road, of the sad, greedy way we have treated the city's heritage.
We then proceeded to have lunch in the Zwin Zwin café and restaurant that we had identified with the help of the internet. Located at Rue Riad Zeitoun El-Kedim, I found the café's blending of modern décor with traditional aesthetics, simple colour scheme and the terraced lounges cosy and refreshing. The café's walls were adorned with paintings by local artists, depicting Moroccan life and people. It was not just in Zwin Zwin café but in other small tea-houses and dhabas that I had come across some very good works by local artists and reproductions of fine Moroccan paintings.
In the evening, we sat on the terrace of Café Zeitoun, gazing at the hustle and bustle of Jama el-Fina. Famous for its fine and authentic Moroccan cuisine and panoramic view of the square, Café Zeitoun did not disappoint us and we returned to it a second time, on the last evening of our stay in Marrakech. After delicious food, we strolled down the square, looking at the many attractions the place holds for locals and tourists alike. We passed by a few snake charmers sitting on faded rugs playing flute to coiled cobras, a man with a monkey perched on his shoulder, men selling spices and dry food, a woman on a stool sewing a cap like the many spread out in front of her for sale, and young girls with their faces hidden in niqab painting hennaon the hands of women.
We also spotted a bespectacled young guerrab (water-seller) in a traditional red dress, brass cups and a leather water-bag. We did not come across any story-teller, though. I later learned that the historic Moroccan art of oral story-telling is now on the decline. Some young Moroccans are trying to revive it but in cafés and cultural centres rather than in open spaces such as the Jama el-Fina. There was no street performer either at the square. Like the one whose story I read in A beautiful white cat walks with me: the street performer turned king's jester, a character inspired by the real private jester to King Hassan II.
Perhaps the fine art of novel-writing is slowly substituting the thousand years old tradition of oral storytelling (hikayat) in modern Morocco. Stories of political suppression, brutality and torture inflicted during the ill-famed Years of Lead under the reign of King Hassan II are told by several writers in haunting, magical narratives such as in The blinding absence of light by Taher ben Jelloun (2004) and Youssef Fadel's A rare blue bird flies with me (2013) and he recently released A shimmering red fish swims with me. Mahi Binebine, another famous Moroccan writer, in his novel The court jester (2017), tells the story of his father who served as the King's jester and his brother who was locked up in the prison of Tazmamart for 18 years for his participation in the coup attempt in 1971.
Thoughts on Morocco
How did Morocco heal its past wounds and get on with its journey as a modern nation? I wondered. Morocco has many challenges: Literacy is not universal (74%); poverty (15%) is still there. Regional inequality between rural and urban and between Berber and Arab ethnic groups is a matter of concern. The ongoing conflict in Western Sahara between the rebel Sahrawi national liberation movement and the Moroccan Kingdom has resulted in denial of basic rights to the residents and continuous state suppression.
A weak parliament and concentration of power in the Royal House is considered to be the root cause of many ills. Still on the surface, to a traveller like me, the country appears pretty functional, progressing on modern lines while retaining a connection to the rich Islamic past.
A cursory reading on Morocco revealed a few things that to me appear to have worked out. Such as the Moroccan Equity and Reconciliation Commission (ERC), founded in 2004 to rehabilitate and compensate the victims of human rights abuses committed by the state during the Years of Lead. Though the Commission has been criticised for several failings, it investigated more than 16,000 cases and distributed $85 million to the affected individuals.
A 2004 code of personal status (moudawana) granted rights to women which gave impetus to women's education and their enhanced economic participation. Another key step, it seems, has been the new constitution adopted through referendum and the reforms the Kingdom is pursuing towards democratic governance since the uprisings and protests of Arab Spring 2011. Based on the concepts of decentralisation, participation and public service provision, the reforms, despite sluggish implementation, have kept public discontent at bay.
The aspect of Moroccan society I wondered most about, during my travels, was religious tolerance whose manifestations I came across in all the cities I visited.
The reasons behind the tolerant attitude towards religious, ethnic, and cultural diversities, I think, include the religious homogeneity in Morroco: 99 per cent are Sunni Muslims belonging to the Maliki school of Islamic jurisprudence. The second is the control of the state on religious institutions. The Ministry for Auqaaf and Islamic Affairs is controlled by the monarchy. Friday sermons are regulated since 1984. After the Casablanca terrorist attacks in 2003, several initiatives taken by the state, such as training of imams, building of new mosques, renovation of old mosques, induction of women as preachers, establishment of a fatwah centre and lately the Institute for Training of Imams, Morchidines and Morchidates (2015) have helped spread the message of moderation and peaceful coexistence. I learned of the sacking of imams who did not adhere to the guidelines for sermons and of the founding of the National League of Religious Employees — a union of a sort — in 2012 by one of the sacked preachers.
Morocco is not just a historic place, emblematic of Islamic history, architecture and urban space and living; it is a continuously evolving, modernising society, coming to terms with the challenges of the time and striving to achieve a balance with the conflicting forces of modernity and tradition.